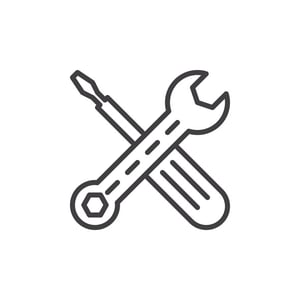 Hundreds and even thousands of dollars could be slipping through your fingers each year. How, you might ask?
Most property management companies don't manage the maintenance process from what we at Haven Homes like to call "the owner mindset." When agents at a conventional property management company get a maintenance request from a resident, they typically dispatch a vendor to deal with the problem without thoroughly diagnosing the request.
Seems efficient, right? Not so much. Here's why Haven Homes takes a significantly different approach and, as a result, saves our owners significant amounts of money.
We approach a maintenance request, like everything else we do, from an owner's perspective. That's why our representatives are trained to ask themselves a few questions right from the outset. Namely:
Is the request a necessary repair?
What is the request specifically about?
Does this request actually require a vendor?
How is this request covered in the lease and who (owner/resident) is responsible for the repair?
To determine the answers to these questions, Haven Homes' representatives are specifically trained to troubleshoot most issues over the phone during the initial request.
We have discovered that our approach can eliminate service calls that cost $60, $80, and even more. Over the course of just a year of ownership, and especially if an owner has multiple properties, these seemingly moderate savings can add up to be much larger amounts.
Let's take a look at some common examples, walking through the Haven Homes approach to resolution.


Example 1 - Troubleshooting
We get a phone call from a resident who says, "The outlets in my kitchen aren't working but I have power elsewhere in the house." In a modern home, it's easy to find out if this is just the GFCI outlet by pressing the reset button.
However, older houses also have GFCI outlets, but they may be in a much less obvious location nowhere near the outlet with the issue. While that seems strange, in many homes, power is often daisy-chained from one GFCI outlet.
That's why we "walk" through the house with our residents to troubleshoot while they're on the phone. We stay on with them until we find that source, which can be in relatively obscure places like the garage or another bathroom. On their own, residents would probably never think to look in these places, but if we help them find the outlet and they reset it themselves, we've saved the owner $60 and a trip charge for a visit that would've taken an electrician a mere five minutes to resolve.


Example 2 - Preventative Maintenance
Another crucial part of our owner mindset approach is anticipating preventative cost savings. For example, we get a phone call from a resident who indicates their water heater is leaking. Typically, we'd advise them to shut-off the water to prevent additional damage to the surrounding area. Newer homes usually have shut-off valves located at the water heater but "older" homes (and by this, we can mean homes from as late as the 1990s) often do not, so the only way to prevent additional damage would be to shut-off water for the entire house. Obviously, that makes it much easier for serious water damage to occur if there's a leak and residents are unable to locate or turn off the main shut-off valve.
We wouldn't necessarily advocate calling a plumber for a dedicated visit to install a shut-off valve. However, if a leak does occur or a plumber is there replacing the water heater, we often advise installing a shut-off valve. Yes, it does cost a little more upfront--but you aren't paying for a dedicated visit. In addition, it's almost guaranteed that you'll make up that upfront cost many times when another leak occurs and you don't have to repair damage to drywall and surrounding areas.
If you'd like to learn more about Haven Homes' "owner mindset approach" and hear other examples of the ways we can help you save money, we'd love to have a conversation. Please be sure to contact us!